For Day 4, I'm combining my GIU post with my card swap group post (since I'm trying to get better about blogging my swap cards). Our chosen technique for May is waterfall cards. This was my pick. I saw a video on YouTube (of course), and it looked like something fun to try. And, that's the point of our little swap group – to try new things and have fun. So, here we go . . .
I started by watching the YouTube video again and writing down all of the instructions. Then I set it aside and worked on other projects for this week and my April birthday cards. I sat back down and started working on the cards and did pretty well just by following my written instructions. (Don't worry I'll get those to you in a minute.) But when it came time to adhere the waterfall portion to the card itself, I was drawing a blank on how to do it. So, back to YouTube and my saved instruction video.
The first time I watched the waterfall card video was around the time Unity did their Advent calendar for the holidays. The small size of the stamps is perfect for waterfall cards. To start out, I cut all of the various elements I needed: 1 card base panel (4 1/4″ x 5 1/2″ – this is just a panel not a folded base); 1 layer panel (4″ x 5 1/4″); 4 squares (2″ x 2″); 4 layers (1 3/4″ x 1 3/4″ – these are where you stamp your images); 1 strip (1″ x 4 1/4″), and 1 strip (1 7/8″ x 9″ – this is the pull mechanism). Score the 9″ strip at 2″, 2 3/4″, 3 1/2″ and 4 1/4″.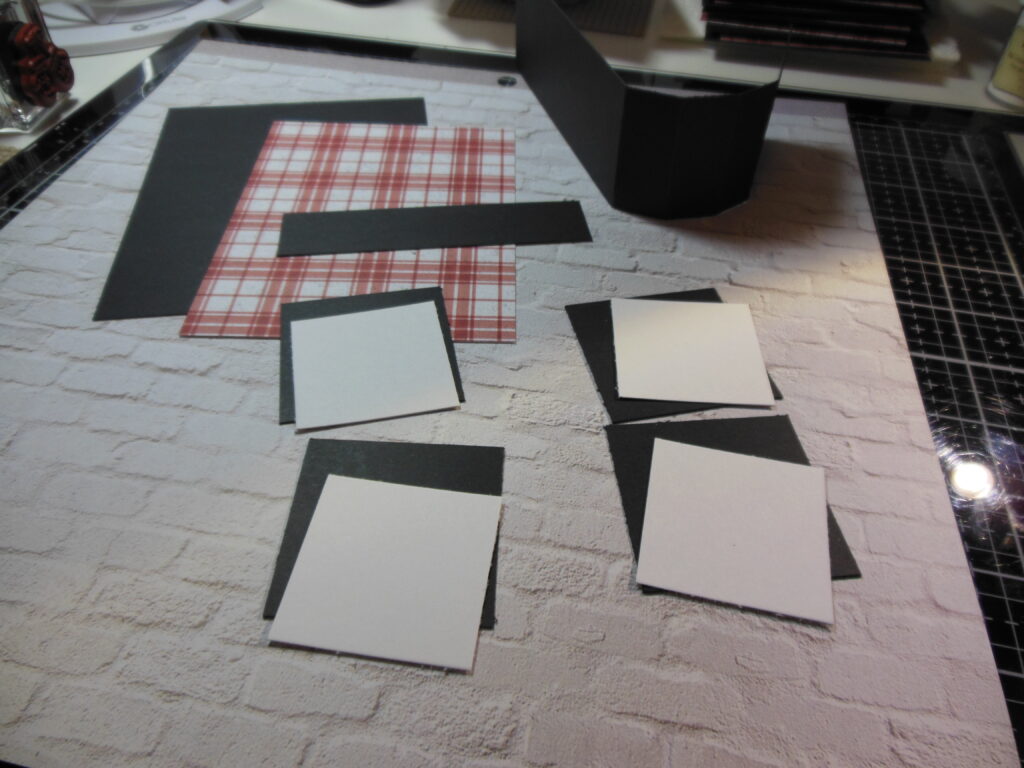 From Unity's Advent calendar, I chose 4 stamps: Day 2 "NOEL", Day 5 "Santa Hat", Day 7 "Ho Ho Ho", and Day 16 "Mittens". I used Distress Ink and stamped the words in Pine Needles and the images in Fired Brick. I chose Fired Brick because it most closely matched the red in the plaid I chose for my background layer, and Pine Needles was the best green tone for that tone of red.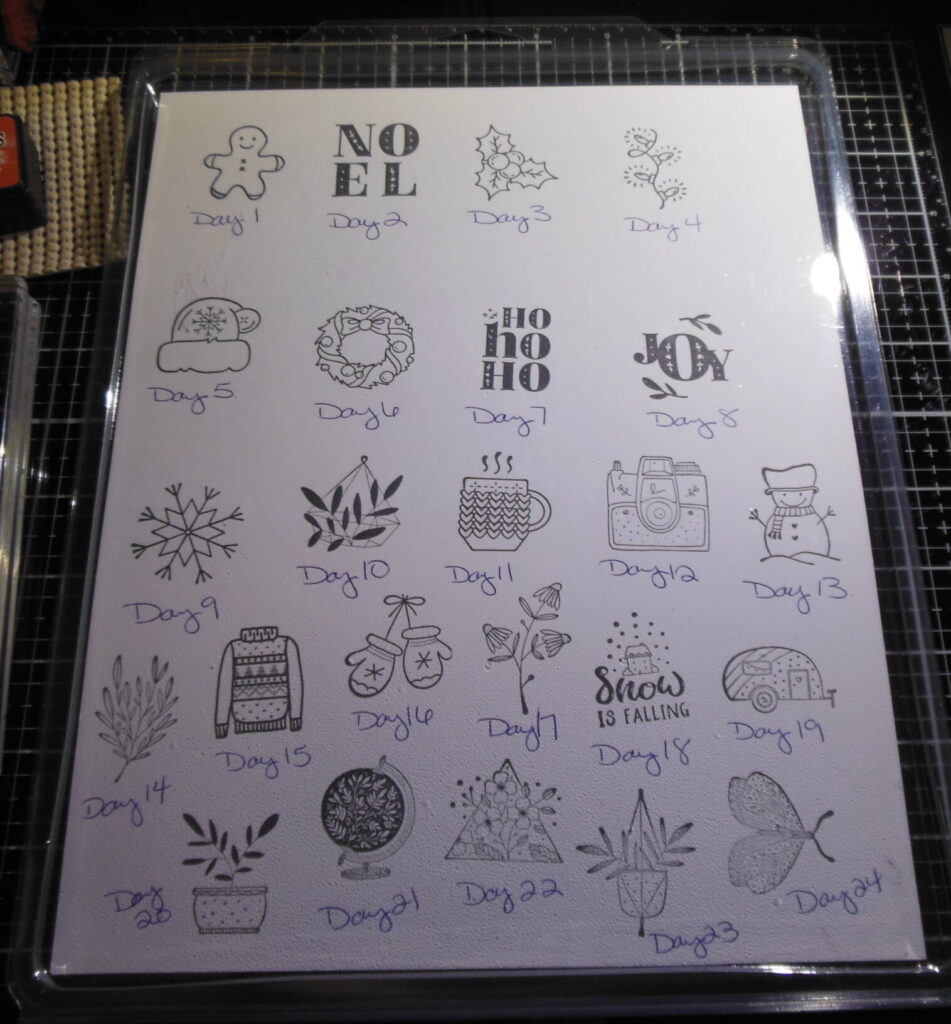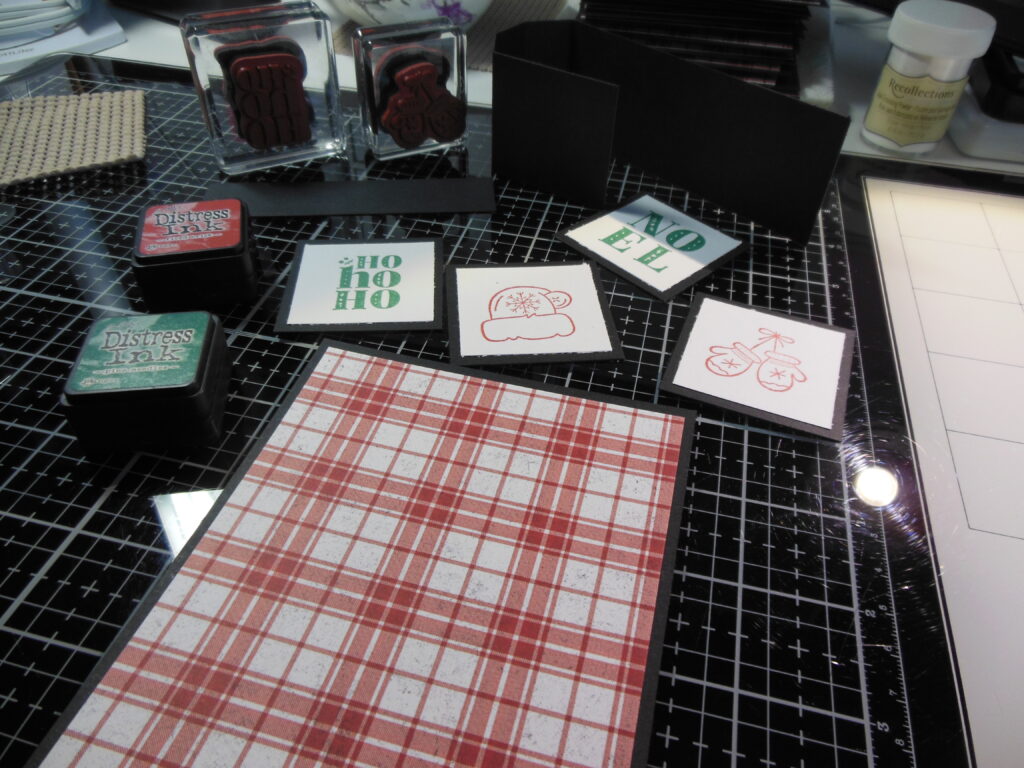 To assemble the card, I glued the patterned cardstock to the black base panel and put a white panel on the back, which is where I can write a personal message when it comes time to send out the card. I then used a 1 1/4″ circle punch to make a notch in the card so that you can see where to pull. The instruction video used a 1 1/2″ circle punch, but 1 1/4″ was the closest I had on hand. Unfortunately, having already layered both the front and the back and it all being card stock, my punch wasn't able to make it all the way through, so I had to help it with a pair of scissors.
Next, I used double-sided tape on the ends of the 1″ x 4 1/4″ strip and put it on the base about 3/4 of the way down from the top. You'll slide the waterfall mechanism behind this strip and adhere it down with another small strip of double-sided tape as shown in the picture below (this was the part I needed a video refresher on).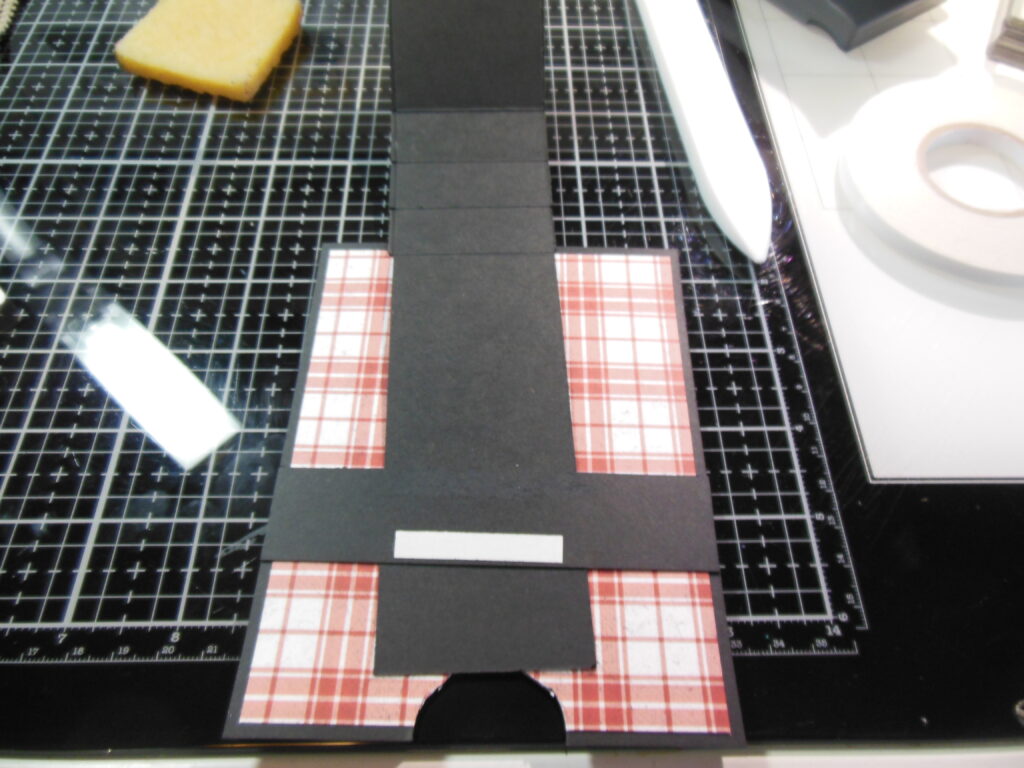 Before adhering the waterfall mechanism down, I glued each stamped image panel onto a black panel and then glued each panel at the score marks on the 9″ strip. Be careful when gluing to only glue the top of each panel so that the panel can still move when the strip is pulled. Start by gluing your "bottom" panel first, and then work your way to the top.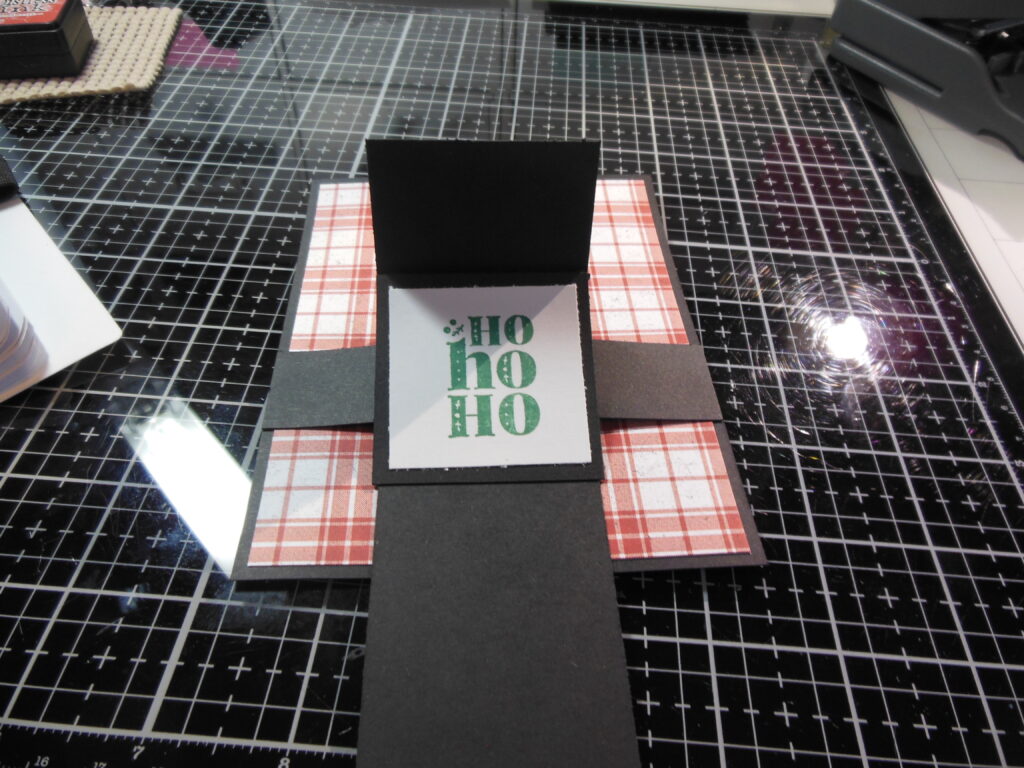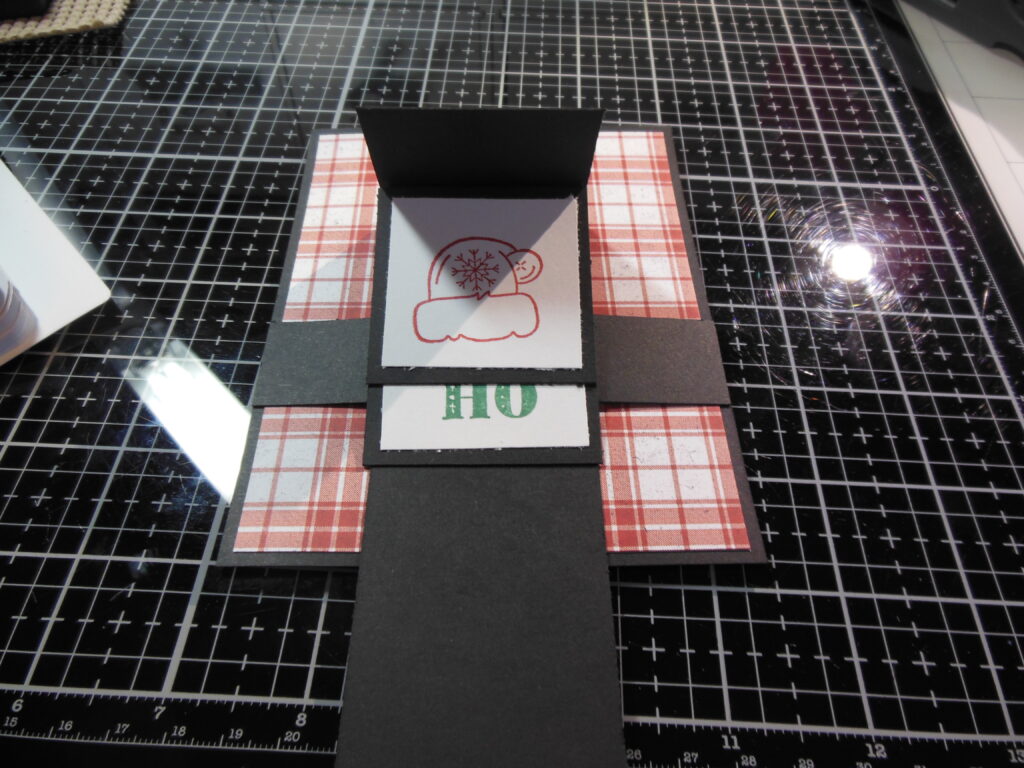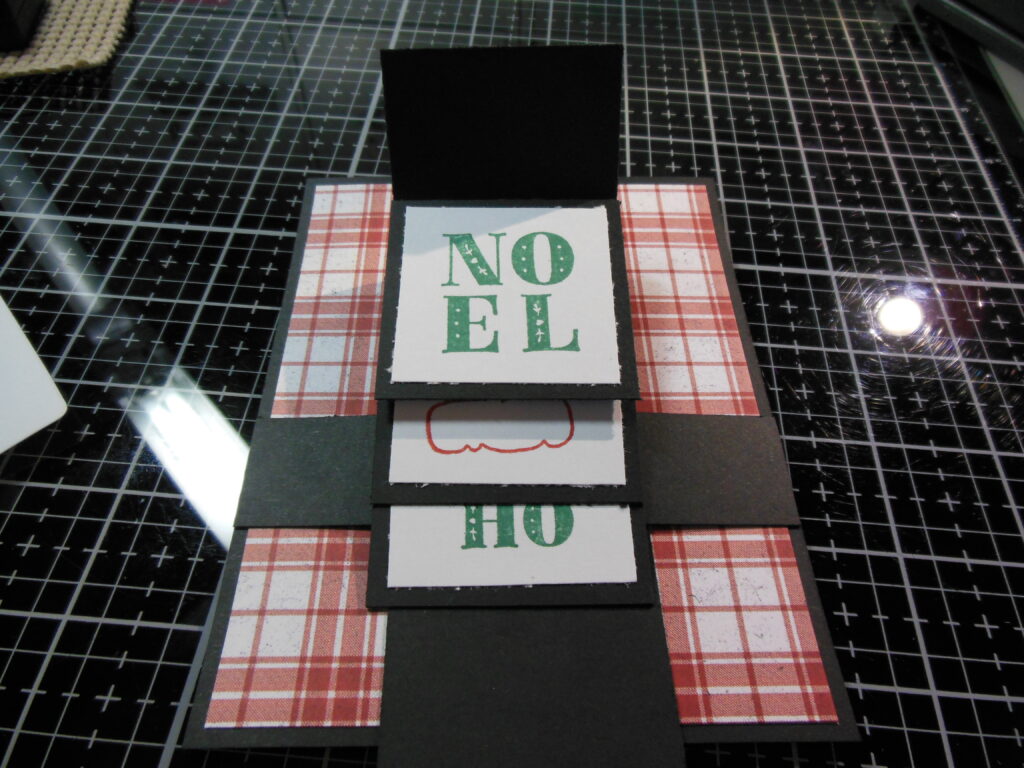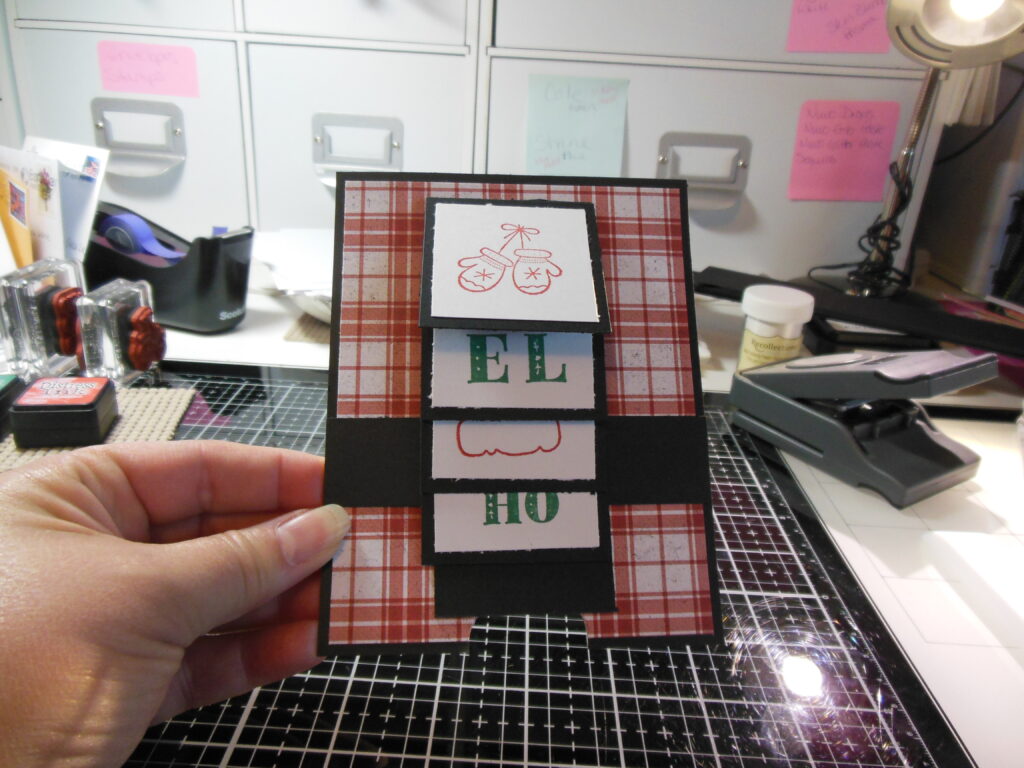 The final card front . . .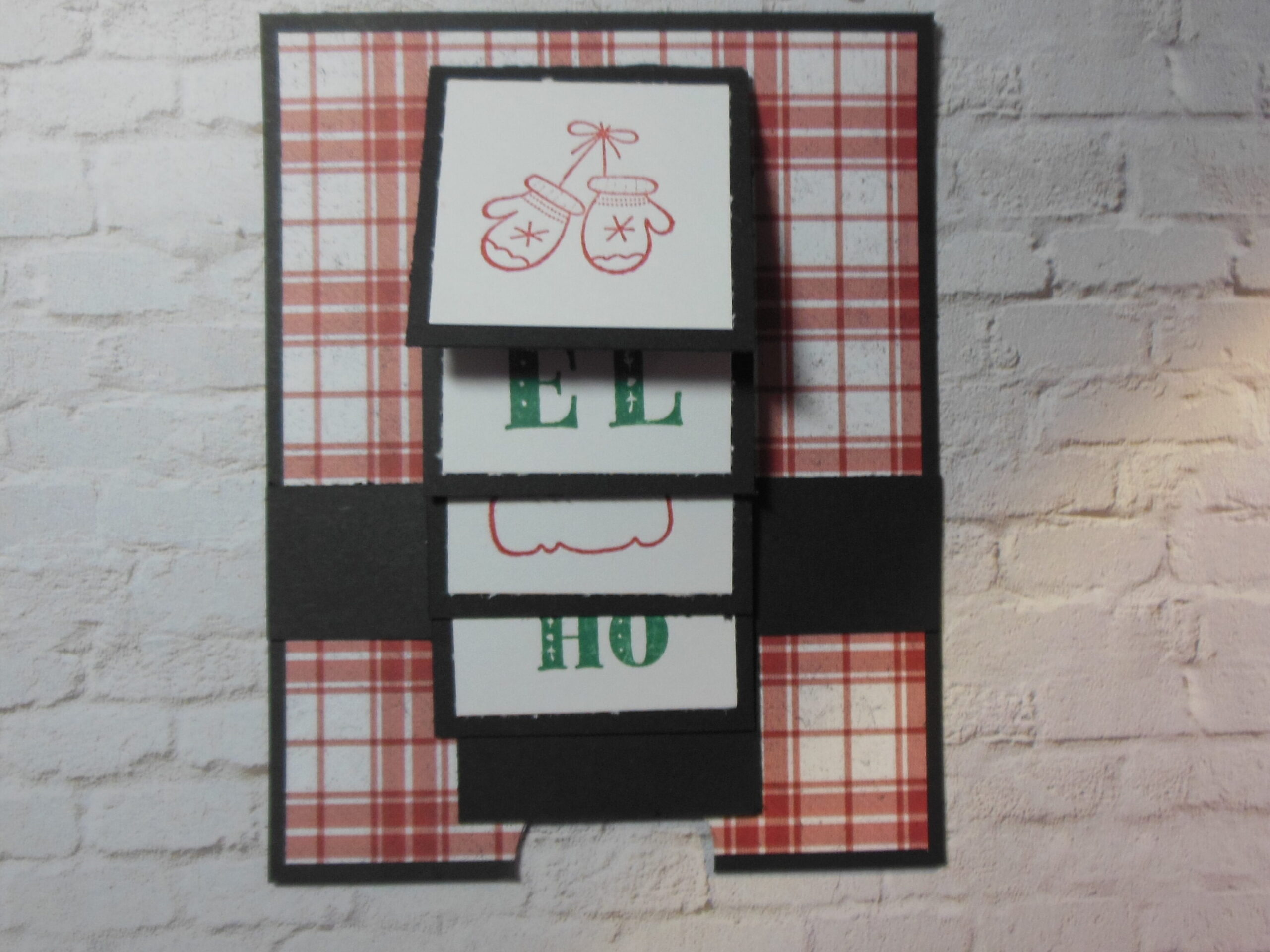 Don't forget to leave a comment on each GIU post for your chance to win one of two $20 store credits to Unity.
Any links in this post are not affiliate links.